tuesday fantasy girlfriend is BACK
Ladies and gentlemen, I give you... Portia de Rossi.
Portia de Rossi is possibly the hottest lesbian on the planet and the Portia/Ellen combo is almost more than my delicate circuitry can bear to think about. I mean, just look at them.
Doesn't that give you a warm feeling inside?
I typically don't find the blonde hair all that hot and am usually drawn to the dark-haired ladies. Portia de Rossi, however, is the major exception. I mean, look at that hair. And that fabulous smile! And those eyebrows... *sigh*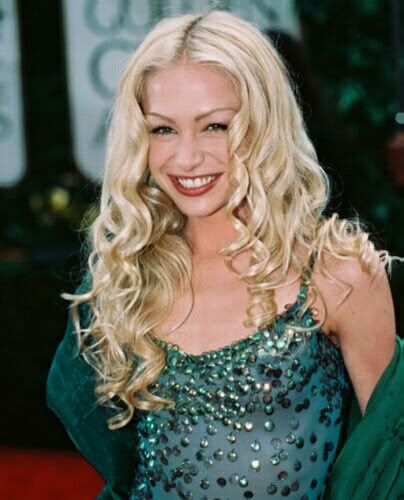 I first became aware of Portia when she was playing Nell on Ally Mcbeal (a show I admit I LOVED), but she was probably also good as Justin Bateman's twin sister in Arrested Development. I've only seen a couple episodes of that one, but I thought it was hilarious. And, of course, I thought Portia de Rossi was hot. One more picture? Can you handle it? Ok here you go:
Yum! Thanks, Portia de Rossi, for being this week's FANTASY GIRLFRIEND!